Oct. 22, 2018
Book alert: an important read.
Every two minutes someone in the U.S. is sexually assaulted.
A writer-friend and colleague has just come out with a new book,
Shattering Silences: Strategies to Prevent Sexual Assault, Heal Survivors, and Bring Assailants to Justice (Skyhorse Publishing), and I wanted to share the info with you.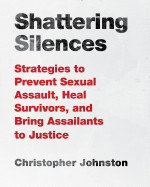 Author Chris Johnston is a fellow journalist in ASJA with me. He's written thousands of articles throughout his career, but he's now published a book that's an important read. He's compiled best practices from experts in the fight against sexual assault, and he joins us today here at the WriterKMD blog. Welcome, Chris.
Thank you, Kris. This is quite an honor and a pleasure for me. I'm fortunate to have met you at ASJA!
Why did you set out to write this? How long did it take you from idea to completion and publication?

Back in the fall of 2009, after serial rapist/murderer Anthony Sowell was arrested in Cleveland, a crime beat writer friend and colleague, Robert Sberna, asked me to work with him on a book about the Sowell case. I didn't want to write about the crime and the criminal, but Cleveland is my home, so I wanted to see whether we swept it all under the rug or actually stepped up. Fortunately, we did the latter. So we conducted interviews in the Mt. Pleasant neighborhood where he lived and committed his crimes; we spoke to police; we interviewed experts at CSU's School of Urban Affairs; we covered the trial, etc. After the trial, I realized I was more interested in writing about the solutions providers I had met along the way from Cleveland Rape Crisis Center, or CPD Sex Crimes & Child Abuse detectives or a Sexual Assault Nurse Examiner at Metro – a lot of the people who are part of the Cleveland section of Shattering Silences – and so Robert ended up writing the definitive study of the case. Really a marvelous, in-depth evaluation and chronicle of the crime. He's a bulldog and tracked down everyone involved he could.
At that point, I still wasn't sure whether it would be a book, but I pitched an article to Christian Science Monitor about how Cleveland had responded to this horrific crime and came out the other end with they key players and agencies out of their silos and working together and an emerging leader in new ways to address sexual violence. The article got a great response, so I said to my agent, John Willig, that I felt there was a book there, because along the way I had been introduced to professionals in other cities such as Detroit who were doing similar things and had Sexual Assault Kit Task Forces that were partnered with Cleveland and Memphis, so I knew it was a national story. I wrote the proposal and got a contract from Skyhorse the week before Thanksgiving 2016.
I finished the manuscript in August 2017, but near the end of the year, my editor asked me to write an epilogue pertaining to the #MeToo and #Time'sUp movements that had happened that fall. I finished that in early January 2018. The book went to press in February and was published in May. So the book had a really long gestation period, and I had no idea it would even be a book for several years, but by then it had become a passion project for me, and I wanted to see it through.
You've done so much work going to the conferences and programs, interviewing people who are making a difference: in Cleveland, Memphis, Detroit, for example. You seemed to gain cooperation and access from the investigators, the task forces, CPD. Was very moved by some of the stories of the healers, like the nurses, and other helpers, too, like the woman from Girls with Sole, or the trauma researcher who is trying to teach a medical resident-- who doesn't want to do a kit and has no idea how to do one-- about compassionate care, you've brought out dozens of stories. Your reporting was meticulous, did not miss a detail. Readers are right there at these programs and crime labs, etc., understanding the complexities of the issues. What do you think are a few of the biggest takeaways here-- what message do you hope gets out?

Wow. That's a tough one. My primary goal was to let people know that we possess this entire national infrastructure of professionals who deal with these cases every day. They do not work in isolation anymore. They work together. They help each other. They share best practices. For many it is not their job, but a mission. I feel like that's rarely part of the discussion when people talk about sexual assault. It's typically about the crime and the criminals. Well, there are thousands upon thousands of people who have been assaulted, and they need to be helped. That was another reason I wanted to write the book. When I dug into the statistics and started talking with the pros, I found it absolutely barbaric and abhorrent that that was where we were in 2009: approximately 300,000 sexual assaults annually, with roughly 80% of assaults unreported. So this victim-centered, trauma-informed approach proliferating now was something else I wanted citizens to know about. It is not perfect. We have a long way to go, but after multiple millennia we have finally made that turn to help victims/survivors not blame them. Well, many of us have, anyway, so we need to continue building on it. That's what's most encouraging to me.
Moreover, there are many ways citizens can become involved or have an impact, too. If you have money, donate to rape crisis centers or advocacy programs. If you don't have money, volunteer. They always need people to work the hotlines – after completing a training program – or just staff community events and so forth. If you're an artist, create something around a related incident, person or theme. And one of the most important contributions citizens can make is to remain informed about pending legislation or related policy reform and spur your legislators to actively participate in support.
Question on behalf of other writers. As a writer myself who has interviewed parents who lost children to tragedy, addiction, accidents, as well as people who have coped with life-changing diseases, I know these stories can be felt by the writer as you do them. How were you able to deal with such a difficult subject to discuss and yet separate yourself from the tragedy and sadness of some of these stories and provide something more service-oriented? Were you able to debrief while you were writing the book? What is your advice to other journalists who are reporting and writing on tragic stories? Your book maintained a hopeful tone.
That was the key. If what I saw were just random, isolated people or situations, I would have just done a couple of articles. Anyway, I've been asked that by a lot of people. -- WHY would you want to write about that? What was it like to deal with such a dark subject? – Quite honestly, I was so fascinated and challenged by what I was encountering and so impressed, encouraged and inspired by the people I was writing about that it became a journalist's, a writer's dream project. I truly was in the right place at the right time. For once! And so it was quite rewarding. I couldn't wait to start writing, and that was the easiest and most fun part, after all of the reporting, shadowing and interviewing. I think part of it is my personality, too. You know me. I'm fairly low-key. I'm a good listener. I'm not that interesting myself, but I love to tell great stories, and I love to focus on solutions, so again, it was the ideal project for me.
So, I never really felt down or depressed or in the dark, because I wasn't writing about just the crime and the criminal but about the people in white hats, as Cuyahoga County Prosecutor Rick Bell who heads the SAK Task Force says. I really believed no one else had written this book, and I'm going to share all of this amazing work with the world. All of that is quite different from actually counseling people who've been assaulted or interviewing them as a detective. They all need to be conscious of vicarious or secondary trauma. The survivors I interviewed were all in pretty good shape. It wasn't easy, and there were plenty of tears, but they were all at much more hopeful stages in their lives. That is why I will do anything to support survivors, because I have seen the success they can have in not just surviving but thriving. Ultimately, it did feel good to bring light into the darkness surrounding this topic.
What kind of feedback have you gotten, and what would you most like people to know?
Shattering Silences has gotten great reviews nationally, and professionals who've read it, family, friends and colleagues who've read it all find it compelling and are impressed with the amount of reporting that went into it. Again, I didn't know it would be a book when I got started in 2009 or that I would work on it for almost nine years and so on, but as I said, it became a passion project for me, and I wanted to do it right.
Mainly, I want people to know that it is a very readable book. Each chapter is a profile, as I did not want to pile on and batter people with statistics and an academic study. It's very much about some very dynamic, multi-layered characters and the work they're doing to radically change what had been an extremely backward approach to correcting a social problem.
And thank you for listening to my sermon, Kris! And for all of your support. I couldn't have done it without my ASJA pals!